There are some people in this world who do not believe in Santa Claus. They are rather foolish, but the truth is that for someone so famous, we know very little about the real Santa Claus.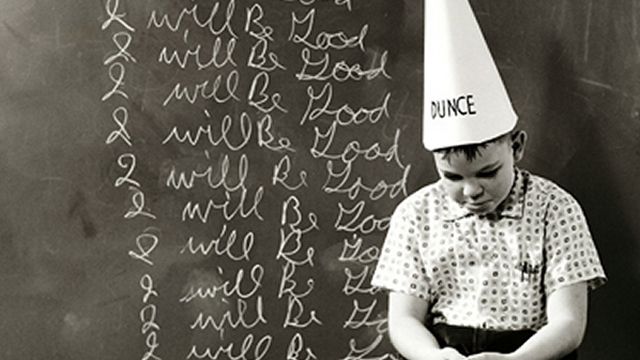 A Rather Foolish Person Who Doesn't Believe In Santa Claus
| | | |
| --- | --- | --- |
| | The Origins Of Santa Claus | |
The early history of Santa Claus is lost deep in the mists of time. What we do know is that many of our Christmas traditions can be traced back to the pagan Yule-Tide festival. Part of Santa Claus may well be the pagan Green Man.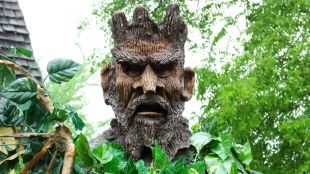 Green Man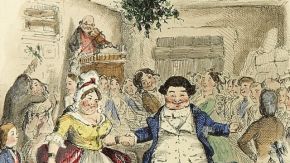 Yule Tide Celebrations
It is thought that Santa Claus has parts of Odin in him. Odin was the head of the Norse Gods.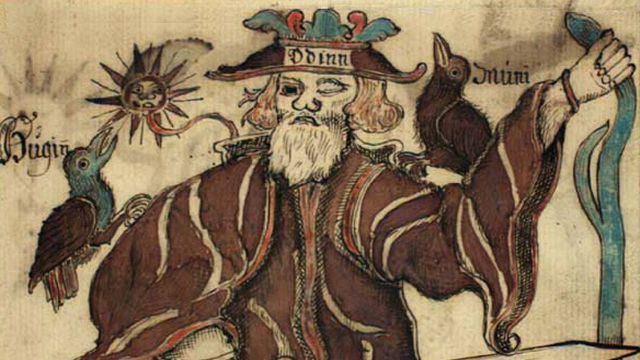 Odin The Chief Norse God
Odin, flew through the sky just like Santa Claus. Rather than a sleigh, Odin had a horse called Sleipnir. Odin had a white beard similar to Santa Claus and children would leave food for his horse. They would often receive presents in return.
Odin Riding Sleipnir
A lot of Santa Claus, including his name, comes from Saint Nicholas of Myra. Saint Nicholas was born about 270 A.D. in what is now modern day Turkey. He died December 6, 347 A.D.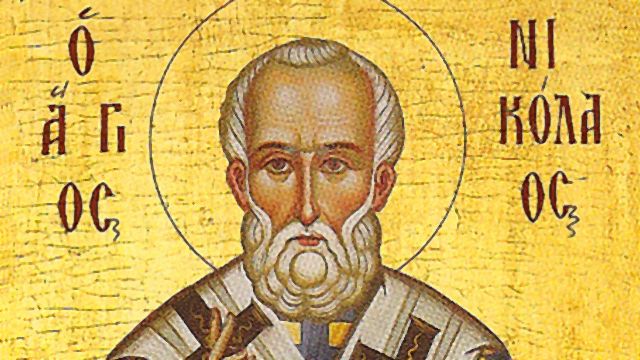 Saint Nicholas
Saint Nicholas was known for secretly giving gifts. He was also Bishop of Myra.
A famous story of his generosity is about one of his parishioners, who was a very poor man. He had three daughters, but because of his poverty the man could not provide a dowry so that they could marry. Because of this the man was thinking about selling them to become prostitutes.
Saint Nicholas heard about this. Three times in the middle of the night he secretly brought bags of gold to the man's house. This meant that the man now had money so that his daughters could get married.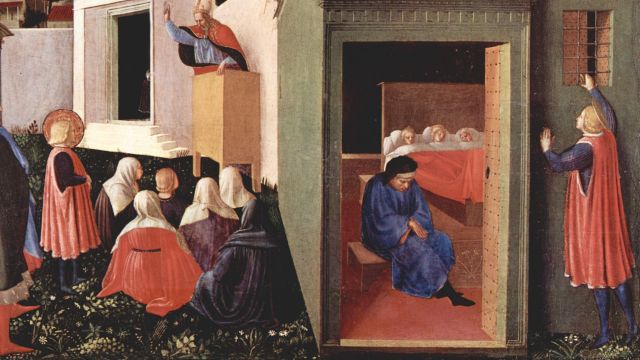 Saint Nicholas Giving Money
| | | |
| --- | --- | --- |
| | The Tomb Of Saint Nicholas | |
After his death in 347 A.D. Saint Nicholas was buried in Myra, which is is modern day Turkey. Here his body lay for 740 years.
In 1087, Saint Nicholas's body was stolen and moved 2,000 miles to a town called Bari, which is in Italy. At that time there was a major tourist industry centered around pilgrims visiting holy relics. So Bari sent 70 sailors on the long voyage to Myra. There they snatched the saint's bones and chased by the residents of Myra they brought them to Bari. Over 900 years later Saint Nicholas still resides in the town and remains a major tourist attraction.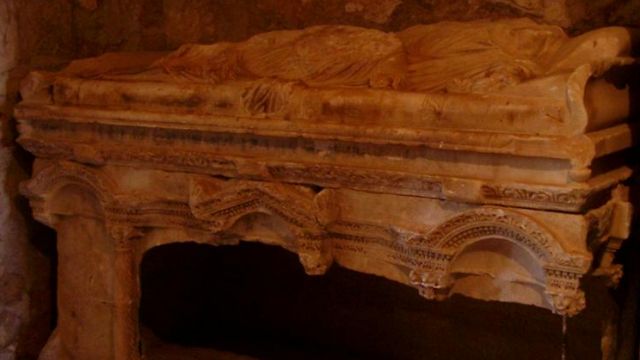 The Tomb Of Saint Nicholas
| | | |
| --- | --- | --- |
| | The Legend Of The Three Pickled Boys | |
This is another story about Saint Nicholas. An evil shopkeeper killed three young boys. He then sliced them up and put them in a pickling barrel. He was going to sell them, pretending the three boys were pickled pork. Saint Nicholas who was visiting realized what had happened. He made the sign of the cross over the barrel and a miracle happened. Out jumped the boys alive and well!!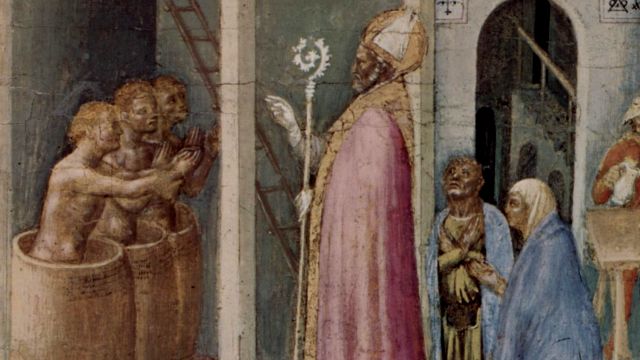 Saint Nicholas And The Pickled Boys
In some countries Saint Nicholas Eve is celebrated. This falls on the 5th December. People dress up as Sinterklaas (Saint Nicholas) and presents are given to children.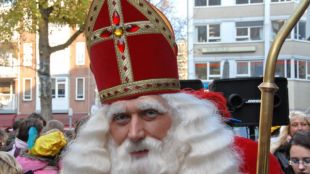 Sinterklaas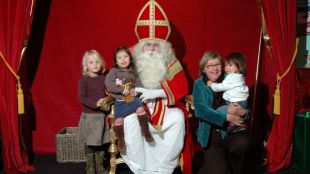 Children Meet Sinterklaas
| | | |
| --- | --- | --- |
| | A Visit From Saint Nicholas | |
In 1823, a poem was published anonymously, it was called "A Visit From Saint Nicholas" it is also known as "The Night Before Christmas".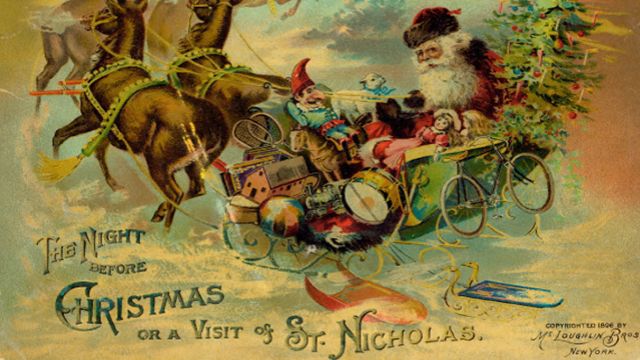 Twas The Night Before Christmas
The author is now believed to be Clement C. Moore, who was a Professor of Biblical Learning.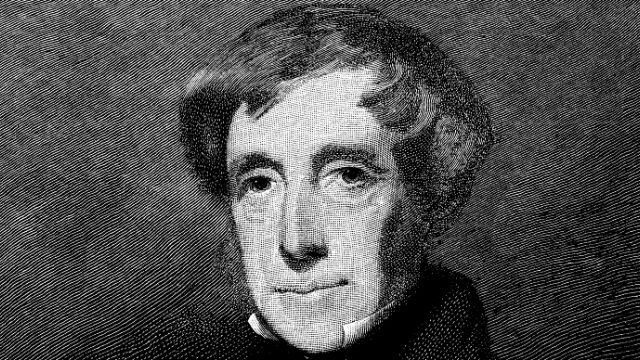 Clement Moore
The poem established many of the ideas that we have of Santa Claus. In the poem Moore describes Santa Claus as plump and jolly with a beard. He also writes that Santa Claus uses a sleigh drawn by eight reindeer. The poem gives each of them a name.
Thomas Nast's Original Santa Claus
On January 3, 1863 in Harper's Weekly, a cartoon was printed of Santa Claus.
The illustration shows Santa Claus visiting a camp during the American Civil War. This was drawn by Thomas Nast who was a political cartoonist.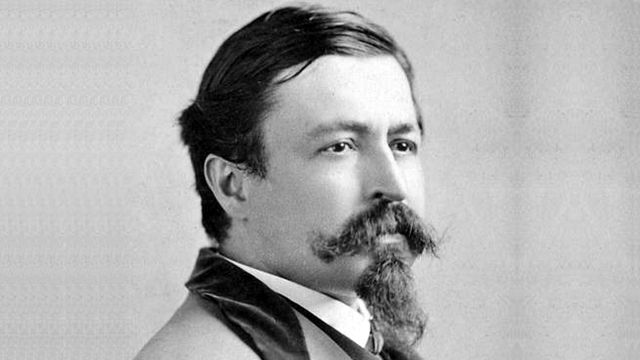 Thomas Nast
This image became very popular and over the years Nast drew other cartoons of Santa Claus. They were widely copied. These illustrations were very influential in the way we see Santa Claus today.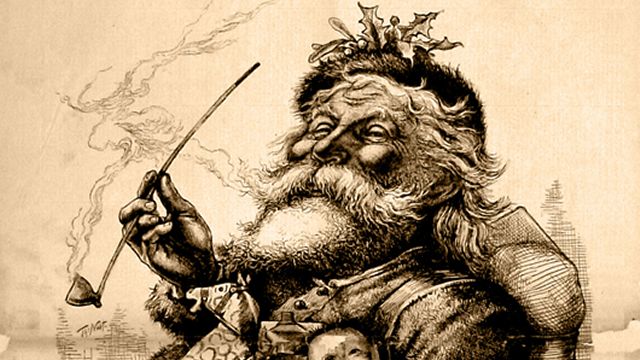 Thomas Nast's Later Santa Claus
| | | |
| --- | --- | --- |
| | Haddon Sundblom And Coca-Cola | |
In 1931 Coca-Cola published a Christmas advertisement. This featured Santa Claus drinking Coca-Cola.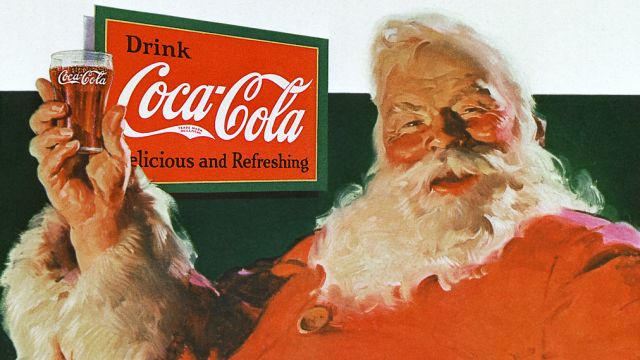 Coca-Cola Christmas Advertisement
The advertisement was drawn by Haddon Sundblom. For over 30 years, every Christmas, Sundblom drew Coca-Cola a new advertisement featuring Santa Claus.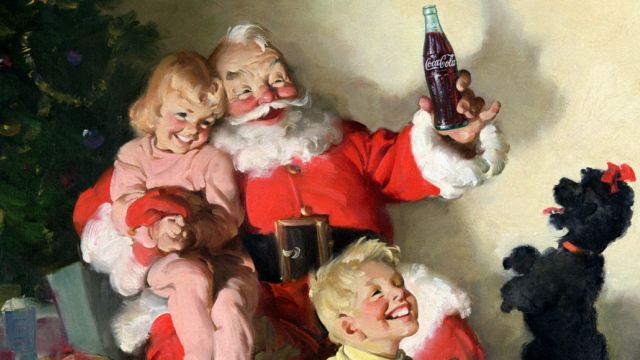 A Later Coca-Cola Santa Claus Advertisement
Interestingly Sundblom used himself as a model for his images of Santa Claus.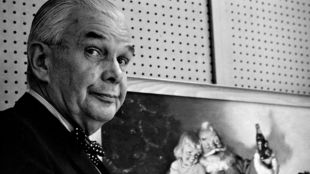 Haddon Sundblom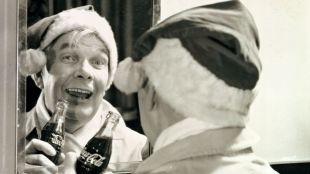 Haddon Sundblom As Santa Claus
Sundblom's images are very important for their depiction of Santa Claus's clothes. Before these pictures, Santa Claus was dressed in many different colors.
Sundblom chose red for his Santa Claus. Many people think that the advertisements invented Santa Claus's red clothes. This is not the case, but they certainly popularized them.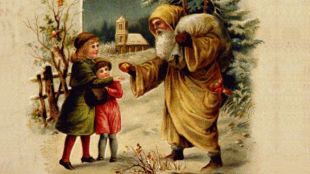 Santa Claus Dressed In Yellow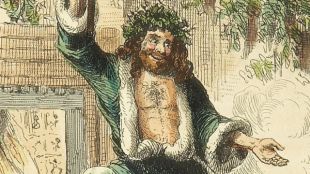 Santa Claus Dressed In Green
Santa Claus has never been so popular as he is today. His influence is still spreading throughout the world.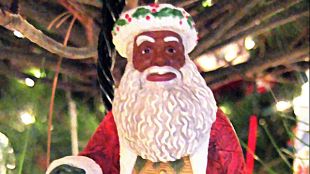 Rastafarian Santa Claus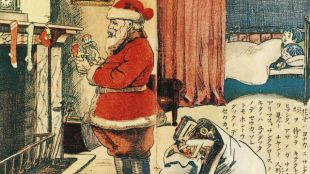 Japanese Santa Claus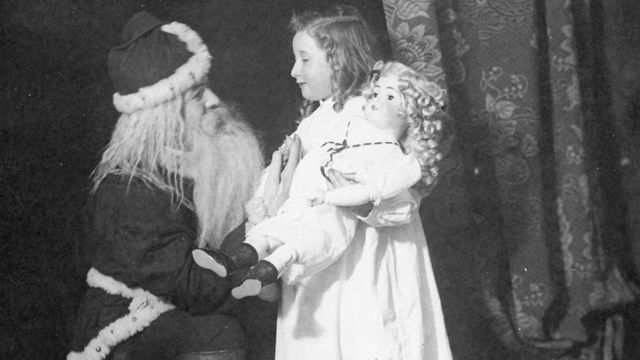 Santa Claus In A Store
People first started dressing up as Santa Claus many years ago, this tradition still continues today.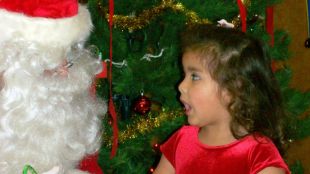 Meeting Santa Today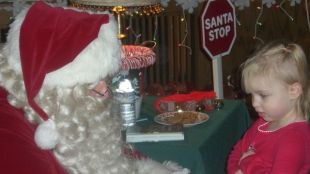 Some Of Us Are Not Sure About The Experience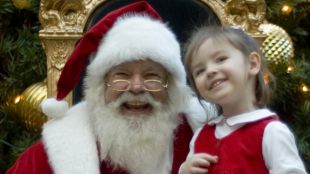 Some Of Us Like Meeting Santa Claus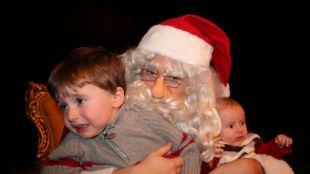 Others Definitely Do Not Enjoy Meeting Santa Claus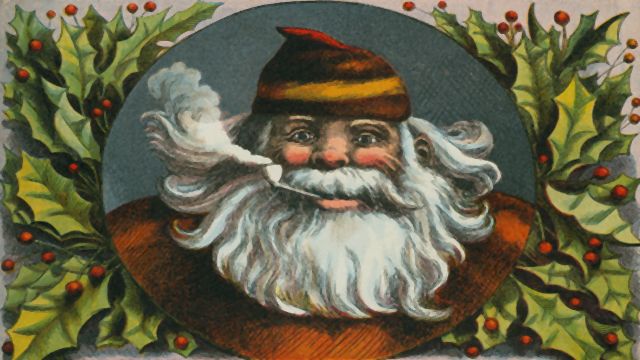 Portrait Of Santa Claus
So ends our tale. Even if we are not quite sure who Santa Claus really is, now you can see that he really does exist.
As all our videos are under 6 minutes in length, we sometimes cannot fit in all the great things we want to say. So here are bits that ended up on the cutting room floor, that we didn't want to throw away.
| | | |
| --- | --- | --- |
| | Rudolph The Red-Nosed Reindeer | |
The story of Rudolph the Red-Nosed Reindeer was created by Robert L. May in 1939. He created the character Rudolph and wrote the poem for his employers Montgomery Ward.
This was as part of a Christmas promotional campaign for the retailer. It tells the tale of a ninth reindeer, who has a red-colored nose that is so bright, that it is used as a light for the other reindeer to find their way.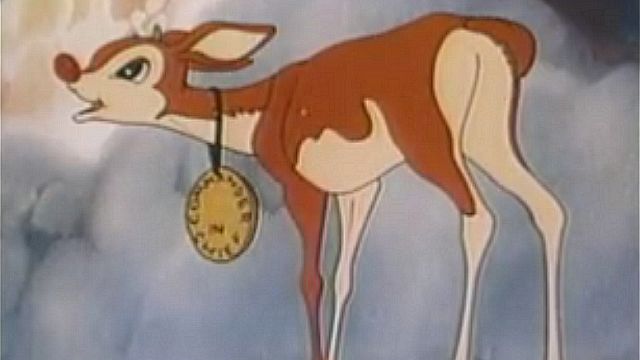 Rudolph The Red-Nosed Reindeer
| | | |
| --- | --- | --- |
| | President Kennedy Assures Santa Claus Will Be Safe | |
In 1961, a little girl wrote to President John F. Kennedy, she was worried about Santa Claus's safety, Kennedy replied:
"I was glad to get your letter about trying to stop the Russians from bombing the North Pole and risking the life of Santa Claus.

I share your concern about the atmospheric testing of the Soviet Union, not only for the North Pole but for countries throughout the world not only for Santa Claus but for people throughout the world.

However, you must not worry about Santa Claus. I talked with him yesterday and he is fine. He will be making his rounds this Christmas."


President John F. Kennedy